PayPerSlide

Admission: R20 per person

Includes 2 slides per person which can be used by anyone in your group.
0-5yrs: FREE admission but have to pay per slide.
No wristband, No Entry.
Need more slides? Price Per Slide for option 2
4 Slides

R40

14 Slides

R90

140 Slides

R600

6 Slides

R50

16 Slides

R100

200 Slides

R800

8 Slides

R60

38 Slides

R200

260 Slides

R1000

10 Slides

R70

60 Slides

R300

300 Slides

R1100

12 Slides

R80

110 Slides

R500
Slides may be shared and carried over to another day.
We offer international standard, US Coast Guard approved lifejackets to rent for your children's safety.
Rental per jacket: R40 per person/day (Includes R20 refundable deposit)
Please note:
1. Lifejackets are only for the use in the waterslide and may not be taken out of the park.
2. The refundable deposit only applies if the jacket is returned to the rental station, undamaged.
Admission and StayWet Passes are controlled with Tyvek Wristbands. No Wristband, No Entry.

Wristbands are only valid for the day on which it is bought and cannot be transferred to someone else.

Entrance will be denied if the wristband is damaged or tampered with.

The amount of slides you buy are controlled with elastic rubber bands.

Rubber bands can be used on any day and are only valid with an Admission Wristband.
Benefits

Unlimited sliding between 9:00 and 17:00 daily.
An unlimited number of daily visits.
FREE admission when sliding on the supertube.
1x FREE Game Mini Golf per daily visit.

Valid between 12 September 2020 to 30 April 2021.

1x FREE Supervising Mom/Dad Admission Pass per visit.

FREE Bubble Trouble Sessions tickets (depending on package)
BRING-A-BUDDY tickets (depending on package)
A FREE SNACK PACK (depending on package)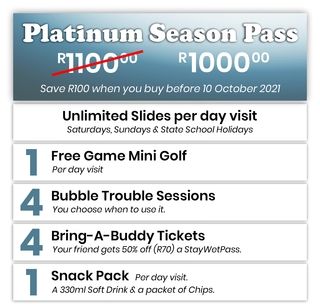 How to buy a Season pass and How does it work?
You have to visit our ticket office to purchase a Season Pass. Online sales are not available yet.

The Pass Holder must be present when buying the Pass.

A head and shoulders photo will be taken of the Pass holder and stored on our database for verification puposes.

The Pass holder is issued with a bar-coded card which needs to be presented before each visit.

Once the holder is verified on the system he/she will receive a wristband that needs to be worn during the full lenght of the visit for the day.

This wristband will allow him/her unlimited sliding until 17:00 daily.

For each Pass Holder, one supervising Adult my enter Free of charge, but still have to report at the ticket office.

Any person may leave and come back during the day as long as the wristband is not removed.
Season Pass Terms & Conditions
The Supertube Season Pass is only valid on Saturdays, Sundays, and during State School Holidays until 30 April 2021.
This Pass is NOT VALID AT GROUP OR BIRTHDAY EVENTS.
This Pass can only be used by one person and CAN NOT BE TRANSFERRED to another person. A photo of the pass-holder is captured by the issuer and stored on an electronic database.
The Pass holder must present the Pass to receive a wristband that must be worn at all times during your visit, it will allow you unlimited slides and admission to the water slide during NORMAL OPERATING HOURS.
BUBBLE TROUBLE: Depending on the Season Pass option bought you will receive tickets to Bubble Trouble Sessions. You have to present the ticket to qualify for a free session. The Ticket does not guarantee access to a session. Sessions are filled on a first come first serve basis. A minimum height restriction of 1.3m applies for Bubble Trouble Sessions.
MINI GOLF: One FREE game of mini golf per day is included in this pass. You must have your wristband on your arm in order to redeem your FREE game.
BRING-A-BUDDY: A Gold Season Pass-holder will receive tickets to bring a friend at half price for a StayWetPass. This ticket also includes a free Mini Golf game per day visit. Bring-A-Buddy tickets are not valid for Bubble Trouble sessions.
SNACK PACK: The Platinum Season Pass package includes one 330ml soft drink and one packet of chips per daily visit to the waterslide. This can only be redeemed if the pass-holder spends at least 30min. of sliding. The options of products will depend on the availability in variety in the park's vending machines at the Snack Shack. To redeem your snack pack the pass holder needs to request it from the ticket office.
Children under 6 years MUST always be accompanied by a responsible person over 18 years of age.
Dolphin Beach Entertainment is not responsible for lost/stolen Passes. However, you will still be able to use this pass if you are identified with your name and ID photo on the database.
If your wristband comes off during the day you must request a new band from the ticket office.
A Season Pass is not refundable and/or exchangeable.
This Pass does not guarantee admission, as the park fills on a first come first serve basis. Due to COVID19 regulations, the number of guests allowed in the park may be limited, so a waiting time to enter the park may apply.
This Pass does not guarantee a specific number of slides per visit, especially during peak hours.
Dolphin Beach Entertainment reserves the right to revoke a Pass without any refund for any of the following prohibited actions:
14.1 Violations of Park Rules, Safety Procedures, and Regulations.
14.2 Assisting another person in any way to obtain unauthorized entry into the park.
14.3 Any conduct deemed by the Management to interfere with the safety or enjoyment of other guests.
Dolphin Beach Entertainment has a zero-tolerance policy regarding theft or attempted theft in the Park. Passes will be revoked without any refund, for attempting, committing, or assisting in the theft of any kind.
The use of this Pass is subject to the operating regulations of Dolphin Beach Entertainment. All hours are weather permitting and season bound and may change without prior notice.
Dolphin Beach Entertainment will not be held responsible for any loss suffered due to the Water Slide not being operational due to natural/national disasters, civil riots, power outages, weather, safety, and/or technical reasons.
Fun4u Amusement Rides
A Variety of Amusement Rides Catering For All Ages.
We have acquired permission from the Local Council to host some of our travelling amusement rides at Dolphin Beach Entertainment. The ride selection ensures there is something exciting for all ages.


The current selection of rides are as follows and the prices are per person, per ride:

| | |
| --- | --- |
| Quasar | R40 |
| Skydiver | R30 |
| Pirate Boats | R20 |
| Mini Big Wheel | R20 |
Birthday Parties and School Groups
Come and celebrate your birthday party with us or take your school group for an exciting outing. We have different packages available.

Fun4U Funfair

Our travelling amusement park which service the Northern, Southern and Eastern Cape of South Africa. With twelve different rides, the funfair is sure to attract both young and old – making Fun4u excellent in helping schools with fundraisers. The funfair is also available for church fundraisers, festivals and shows.

Visit our Website

Using this site means you accept its
terms
| Copyright © 2021 Dolphin Beach, Jeffreys Bay, South Africa
| website by